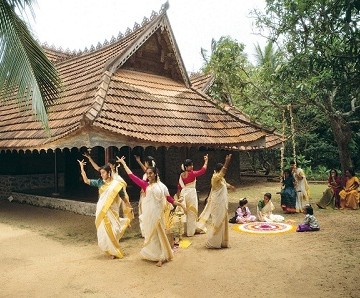 The Hindu festival of Onam is the most popular festival of Kerala, God's Own Country. Celebrated in the month of Chingam (name of a month as per the Malayalam Calender), Onam falls in the month of August or September.
A 10 day festival, Onam is a time of great celebrations and family get togethers. It is a time of buying new clothes, home decoration, flower arrangements (pookalams) and visits to the temple. This harvest festival, signifies plenty and it is a time of colours and celebrations all around.
The Onam Sadya, or the traditional Kerala feast served on a plantain leaf is an integral part of the celebrations and brings together the entire family in the process of cooking, making arrangements and savouring the delicacies.
The annual vallamkalli or the snake boat race is yet another attraction of the Onam season.  The boat race is an event for which preparations start almost a year in advance and draws eager spectators from far and wide. It is also a major tourist attraction of Kerala.
The pulikali meaning the tiger dance is another much looked forward to part of the Onam celebrations wherein men with bodies painted like a tiger perform the traditional dance.
Onam is considered to be the homecoming of King Mahabali, who loves his people. It is believed that once a year on Onam he visits his subjects and his people go all out to welcome the king and celebrate his homecoming. Atham is the first day of Onam.
The ten days of Onam celebrations start with Atham, Chithira, Chodhi, Visakam, Anizham, Thriketa, Moolam, Pooradam, Uthradam and finally the grand day Thiruvonam.
Waking up early morning, an oil bath, visit to the temples, the entire family getting together to make elaborate pookalams or the beautiful flower arrangements at the entrance of the house and finally preparing the onasadya are activities that make up the celebrations.
The women, menfolk and the children are seen dressed in the traditional moondu neriyada, moondu and the pavadai respectively. It is a time of rejoicing and getting together.
The festival of Onam makes Kerala a perfect heaven, which is rightly known as the "God's own country". Here is a collection of related information on Onam.