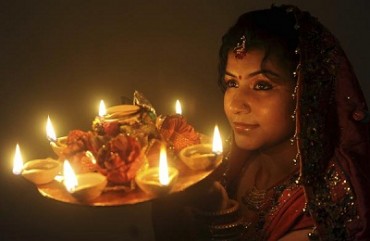 About Karwa Chauth
Karwa Chauth is an important festival for Indian women since it is meant to strengthen a marriage. It is considered to be one of the biggest festivals for married women.
What is Karwa Chauth?
The prime significance of this Hindu festival lies in Hindu married women praying for the overall well-being, longevity and prosperity of their family, and especially their husbands. The festival generally falls immediately after Dasara, and nine days before Diwali in the month of Kartik as per the Hindu Calendar.
The name Karwa Chauth comes from the combination of two words: 'Karwa', meaning a pot with a spout, symbolizing peace and prosperity and 'Chauth' which means fourth day. The fourth day is significant since it belongs to Lord Ganesha, who, it is believed, grant long life to husbands.
Karwa Chauth Vrat
The vrat or the fast is the main highlight of this festival. Hinduism believes that fasting is one of the ways to control the urges of the mind and the physical body and leads to the path of spirituality.
Hence, on this day, the married women get up early and eat before sunrise. This food is called the 'sargi' which is usually given by the eldest women of the family or the mother-in-law. After that, the women do not eat or drink anything till they see and worship the moon and break the fast at the hands of their husbands.
Karwa Chauth Rules
An important thing is to not look at the moon directly, since it is considered inauspicious. People usually look at the moon through a sieve or see its reflection in a bowl of water. It is said that the woman undergoing the fast should not look at anything/anybody but her husband.
First Karwa Chauth
The first year of marriage is special for all the festive occasions. The first Karwa Chauth is considered to be a big occasion and the new bride is the highlight of the festive occasion. She is thus bestowed with a lot of blessings and gifts from immediate family members and relatives.
The Karwa Chauth Pooja is also elaborate and grand and all the married relatives are invited to take part in it. After the sighting of the moon, the husband gives special sweets to break the fast and showers the wife with gifts on the first Karwa Chauth.
We have compiled information on this festival which includes legends, traditions, recipes and celebrations that surround the festival. Here is an index of all the information available on Karwa Chauth.