Join the conversation and make friends
There are conversations happening about everything here. Join an existing discussion or start a new one. Soon you will notice others who have the same interest or wavelength. Friendships blossom the natural way like flowers in the country side!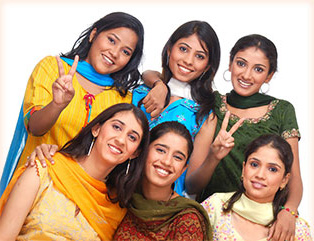 Get practical answers, advice, and help
Looking for information? Trying to make a decision? Facing a new or sticky situation? Just ask! Someone in the community had been there and done that. Members will share their experience or provide a fresh perspective.
Showcase your talents and be inspired by others
What is your thing? cooking? gardening? craft work? writing? Whatever it is, showcase your work and get feedback from the community. Or browse members contributions and get inspired!
Lighten up your day!
Sometimes you just want to unwind! Our collection of jokes, polls, online games and inspirational thoughts will help you loosen up and get back to your rhythm.
Contribute to the community
You can contribute in many ways. Start by simply sharing your experience on every day things. You can also help Indusladies grow in your neighborhood or worldwide. You can contribute articles, reviews, recipes, short stories, tutorials and more. Or take up one of our volunteer positions and develop yourself.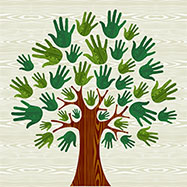 Unique Support & Resources
No other site has the depth of information and the commitment to support all aspects of an Indian women's life. Our mission is to make your life and the lives of all Indian women better through community
Friendly & Helpful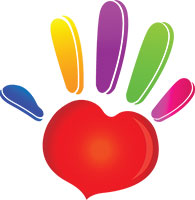 Start participating and you will quickly realize how friendly and helpful our members are. It makes our community addictive. Over 40 moderators watch over the site 24×7 and ensure that conversations have a tone of civility that is quite unique in the online space. Whether you are looking for a Diwali sweet recipe or a buddy to loose weight with or help finding a specific craft supply in Mumbai, you can find it all in Indusladies.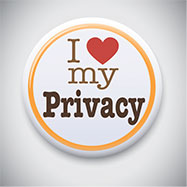 Safe & Clean
This is an emotionally safe place created by women for women to discuss anything that is in your mind. No one would judge you or keep scores. All public content is moderated to keep the standards of our community. You can be sure that your privacy is respected at all times.
We would love to have you as part of the community. JOIN US!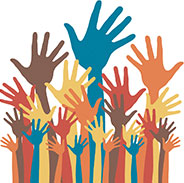 Large & Vibrant
Indusladies.com is visited by over 1.6 million women every month. About half of the site's visitors are from India but women from over 106 countries visit every month. The sheer flow of women through our site makes it a very vibrant community and a great place to hangout, get help and make friends.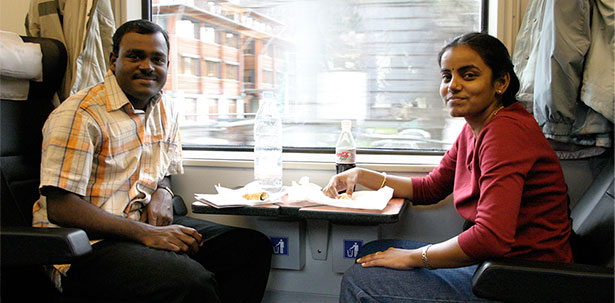 Me and my husband Jey on a train from Vienna to Munich, 3 months before I started Indusladies. December 2004.
Hello,
I am glad you are here. Let me tell you the story behind Indusladies.
In 2004, when I got married and came to the US, I expected to go to another home away from home. So many of my college friends have moved to the US. In fact, I had more friends in the US than in India.
The reality was completely different. It felt like I had entered a humming factory where everyone was busy doing their thing and I didn't know where to start. While american neighbors were friendly, I felt myself wanting to reach out to Indian women friends to share my life. That's when the light bulb went on. If there can be an online community for Indian women, wouldn't it be a great place for all of us to hangout, share things and make friendships?
While my impulse to start Indusladies was born out of a personal need in a foreign country, it quickly became clear that the need was shared by Indian women wherever they are.
Indian women needed a place to get practical answers, advice and help. They needed a podium to share their talents and be inspired by people who would appreciate their talents, be it craft or gardening or cooking. They needed a platform to meet people with similar wavelength and make authentic and enduring friendships. They needed an "online home" they can just hangout to unwind amidst their daily hustle. Because Indusladies filled a need, the site grew quickly. Today, over 1.6 million women from over 106 countries visit Indusladies every month.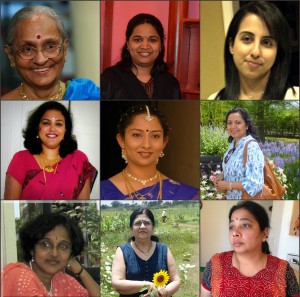 A few of the many
I couldn't have done this alone. As they say, "It takes a village to raise a kid". It did take a global village of Indian women to build Indusladies. Over 200 women from all parts of the world have generously contributed. The friendly and helpful atmosphere of the site is possible because of their dedication and passion.
Modern life has many stresses, but also opportunities. The best way to realize those opportunities is through helping each other in communities. We can help each other, whether we are next door or across the world.
We would love to have you as part of the community. JOIN US!
Our community has something for every Indian woman, whether you are a daily visitor or someone who drops by occasionally. I invite you to become one of us.
The best way to get to know Indusladies is through the voice and words of our members.

I feel that some of the friendships forged in this community have the potential to last beyond the confines of IL. That is IL's grand success.
Oviya

IL doesn't let me get off with the excuse that "Alas! I'm a woman". Rather, it tells me, "Atta girl! You are a woman. My, my! And what a woman!…go ahead and make your dreams come true!". Paulina

IL, a place where hundred unknown hands are willing to lift a stranger who falls. An addiction that has made me a better person. Shanvy

I think IL, unlike any other website out there, has "real" people who offer practical solutions.
SuccessMinded

One of the most informative, useful and interesting sites I have come across.
Kylie
Everyone in the world is mix of individual personalities, ideas, talents, emotions and creativity. Like a mother identifying and upbringing her child's talents, IL brings out the talents within us. It not only gives us a chance but also provides a lot of energy to be innovative and share ideas with confidence.
Sp_sha
What is your mission?
Our mission is to make Indian women's life better through community. To help you have resources and connections worldwide that make your life easier and better. Everything we do is aimed at that goal.
How are you different from Facebook?
Indusladies is by Indian women for Indian women. You can be at home here and get answers and support not available anywhere else. All our content is tailored specifically to suit Indian women. You also have more stronger and greater options for maintaining your privacy. Also, you are more likely to meet with people who share similar interests or life stage as you, which makes the interactions very practical and relevant.
What kind of people join Indusladies?
Indian women from all different walks of life and from around the world join Indusladies. You are very likely to find women who share your same situation, interest or needs. You would also find women who can provide new and different perspectives that will enrich your life.
Are there members in my area?
Indian women from over 106 countries visit Indusladies every month. As a member, you can browse our Neighborhoods section to find groups, discussions and members active in your area.
Can I invite my friends to join?
Absolutely. Having your friends join Indusladies would make it all the more fun to belong here. You can invite your friends to Indusladies via email. You can also join us in Facebook, Google+, Pinterest and Twitter and share our updates with your friends.
How can I get involved?
There are many ways to contribute and support our community. A description of some of them is available here.
Can I join later?
Yes, you can join whenever you are ready. Just visit us and click on the "sign-up" link at the top right of any page in our site. Remember that we have a free gift for new members. You can sign-up now and choose your free gift!
We would love to have you as part of the community.JOIN US!
That sounds great. How do I get started?
Just click the "Join Us" button to get started. After registering, you will be taken to our new member area to show you how the site works and get you going right away.
Choose as many as you want from this collection of FREE ebooks when you join.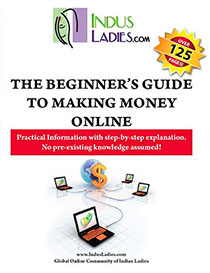 The Beginner's Guide
to Making Money OnlineWhat do you need to be successful in making money online? How the internet makes money for you? Detailed explanation of all money making avenues online. Full glossary, 100+ resource sites and over 125+ pages.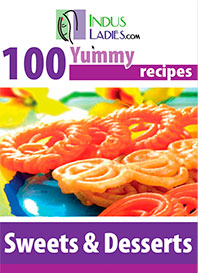 100 Yummy Sweets
& Dessert RecipesNever wonder what sweet to make for a festival or an occasion. Just flip through this book to find the perfect one. Complete with stunning pictures and clear step-by-step instructions. Includes 100 Recipes!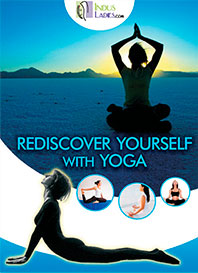 Rediscover Yourself
with YogaThis information packed ebook offers everything you need to know to get a yoga routine going. Includes yoga benefits, yoga styles and how to get started. 21 popular yoga poses illustrated with pictures!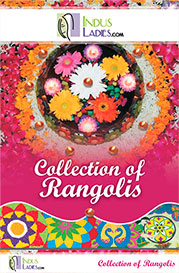 20 Rangoli Designs for Everyone
20 Member contributed Rangoli designs that beginners can try for the next occasion. Includes flowers, patterns, deities and more!
We would love to have you as part of the community.JOIN US!