Parties and get together are one of the best ways to catch up with old friends and meeting new people. When attending any event, one always wants to look perfect from top to toe.
Below are few steps that need to take care when going to a party –
Makeup
Cleanse your face with a cleanser and apply moisturizer for that radiant glow.
Wear makeup that suits you and the event which you are attending.
For evenings you can choose darker shades while for day events go with nude look. Always accentuate your best feature. If you have nice thin lips, shape them with lip pencil, and apply lip gloss.
Pink or peach blush can help to emphasize your cheek bones. Charcoal shade kohl can do wonders to your eyes.
Dress
Select your dress according to the occasion. If it's a morning event, wear a lighter shade outfit. Try to avoid too much of glitters and shimmers. A silk saree in off-white, teamed up with matching blouse, is perfect for formal day wear occasion. 
On the other hand for evening parties you can select something in golden or silver. For cocktail parties, a sequin studded black or wine red sari, with a backless or halter blouse, can add glamour to your look. If it is a formal event, go for black or red tones, as they are the safest bet.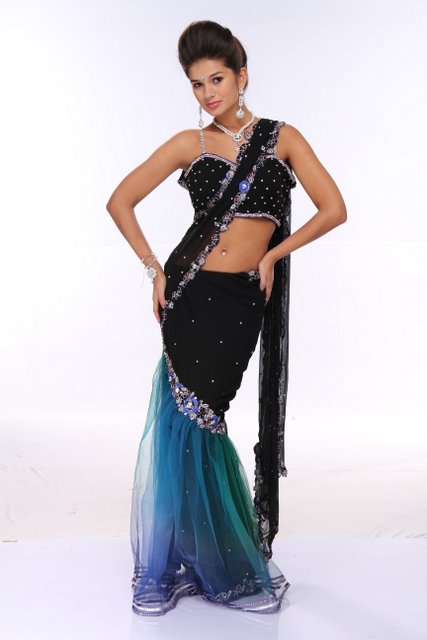 Hairstyle
Play with your hair styles, for cool looks like twists, high buns, ponytails, hair plaits, French bun, or just leave it down. Accessorize with fancy hair pins, hair bands, or grip-tut combs, which can give your hair a stylish makeover.
Accessories
You can either carry a matching, or contrast colour bag to complete your party look. Golden or silver ethnic clutch bag goes well with Indian saris and salwar kameez. For wedding parties and evening parties hand work potli bags are in with Indian outfits.
A sequin studded black clutch is always a great add-on. Make sure it fits all essentials, and matches your outfit well.
Matching jewellery can add to the charm. A statement ring, or neck piece, well teamed up with an Anarkali churidar, can accentuate your party look. Traditional jhumkis are always the safe bet with Indian outfits, like saris and kurtis. For fusion look, team your attire with a beaded or stone necklace.
High heel pumps in bright shades, like black, red, silver, or gold, can enhance your party look further. Make sure they are comfortable and go well with your outfit. Try wedge heeled footwear with sarees, as they are more comfortable than pencil heels.
Last but not the least feel confident and always keep smiling.
Picture Courtesy: cbazaar.com