Editor's Note: Birthday planning is not as easy as it looks. Even with the boutique cake bakers and party planners, there is a lot of thinking that goes into making a birthday party a successful one. And more so if it your child's first birthday.
Our member Rakhii shares her experience of planning her daughter's first birthday. We can take a lot of cues from this planning. 

Planning for my daughter's birthday started 4 months prior to the date of the birthday.
Any party/function/celebration's success depends on planning.
I wanted Megha's first birthday to be memorable (for us). Of course she wouldn't remember a thing about this day but that doesn't stop us from putting together a fabulous party for her!
Guest List and the Venue
DH and I decided that we want to invite around 40 people. My research showed that most of the people living in our town opt for Town Halls and sports centres as they are far more economical than renting a restaurant all for ourselves.
After a lot of speculation, we have decided to host the party at a Lions Club. This hall we chose is the right price and it fits 75 people. Since we would be having about half that number for the party, we should have plenty of room.
Invitations
I wanted an invitation which is unique. So, I found a place which makes just what I wanted! It had the option of placing 5 of megha's pictures from birth upwards. LOVED them! Since it was custom made, I chose the colors, font, text and even the layout!
Wordings were:
A Year of laughter
A year filled with fun
Our Little Megha is turning 1!!
Cake
Planning:
After looking around I found one lady who bakes cakes with exactly the same techniques I wanted in Megha's cake. I wanted to make sure that the lady uses fondant and gumpaste for decorating the cake as I really wanted the cake to have the elements of Megha's favourite toys to be made out on cake.
The first one was Sophie the Giraffe and the second one was Bug-a-Loop. Both of them are Megha's all time favourite toys and hence, I wanted the cake's theme to be in the colours of the toys and the cake topper to be Sophie the Giraffe.
Cake Details:
I borrowed a book on cakes from the library just to get an idea about my options. After some research, I decided to have a 2 tire cake and 2 layers each. When I told this to the lady, she suggested that I use two completely different flavours for the 2 tires, this way, if someone doesn't like one flavour, they have an option to have another. What a great idea!
I chose vanilla for the first tire with lemon-curd filling (in the layer). I chose chocolate for the top tire with chocolate ganache for filling. I chose these standard flavours to make sure most of the crowd likes it.
The color of the fondant will complement the Sophie's orange patches. A few ladybugs would be spread around, theme taken from bug-a-loop. I wanted 10 inch cake for the bottom layer and an 8 inch cake for the top layer.
Candy Station

There cannot be a birthday without chocolates and candy, can it? I am inviting a few kids (10 to be specific) and I want them to have as much candy as their parents would allow them to, lol! So, I decided to have a candy station.
Just before leaving for the day, kids can help themselves to the candy. So far I have bought jelly beans, gummy bears, mini-sneakers/mini-others, Ring pops, bite size sneakers/smarties and fruit gums. I chose these as they are good to be eaten until next year.
Meticulously i packed each item in plastic bags and tied them with strings. Oh, it was very time consuming. I bought the plastic bags in cone shape from a dollar store. I had to custom cut to fit different types of candy. Candy, check. I thought I had a better picture, I guess not!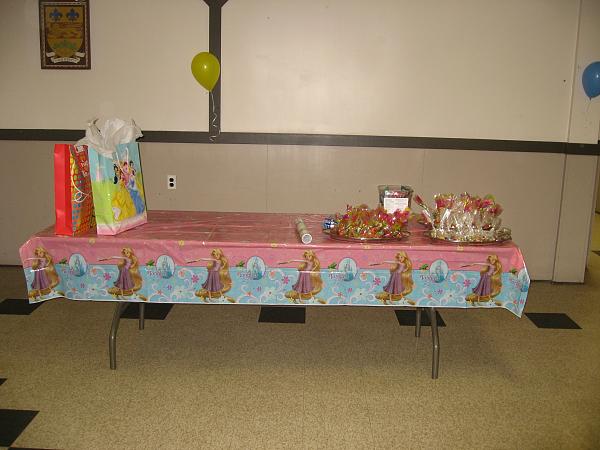 Decorations
It's nice to have some decoration of any special event. I didn't want to spend a lot on decorations as I was afraid that I am cutting close to my budget; and I really want to stick to my budget.
Party Favours / Return Gifts / Loot Bags
I explored a few options and I decided that I will make fairly standard for little boys and little girls, perhaps with color differences.
I bought small gift bags and stuffed ping-pong bat/ball, bubble mix, treasure hunt map, whistles, color pencils(10 each), coloring paper, small kaleidoscope and some other small things for which I do not know a name. I loved putting together these small treasures.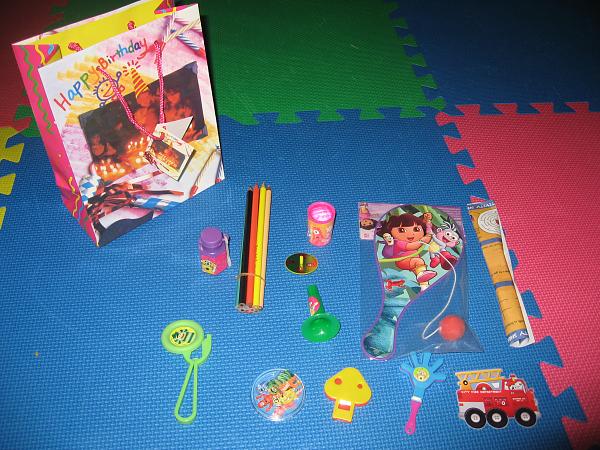 Food
We decided that we would be getting Chinese for lunch for everyone. My budget was $400 and we were well within the budget of ordering the food. I must say, since it was going to be Indian crowd (mostly), we had to make a special request to make it spicy. Yummy Yummy!
We visited a couple of our favourite restaurants and chose one based on the taste and proximity to party place.
The Day of the Birthday
Call's poured in from all over the world; cousins, aunts and uncles wishing her a life filled with joy and good health.
After breakfast, I bathed her and she napped for full two hours! usually she doesn't sleep that long. She was being so cooperative and I couldn't be any less proud of her. By the time she woke up, we are ready to leave to the party place.
Few of our friends showed up early to help set up cake table, decorations, candy station, food, chairs etc. Once the guests started arriving, I quickly changed into a (sexy) red dress while Megha is dressed in an adorable pink frock.
A small table was set up for soft drinks and snacks so that guests can help themselves while we get ready for cake cutting.
Soon we started the cake cutting. I almost had tears in my eyes. My baby, my small tiny baby whom it seems like was born only yesterday is turning one! How did she grow up this fast?!
And the Megha had her first taste of her birthday cake. She made a face in the beginning but loved the flavour.
After the cake cutting, the clown entertained the kids with all sorts of funny tricks and treats. Kids loved it. Some younger ones were scared to look at the clown but the clown was very gentle and friendly. She coaxed every kid to play with her.
We also had face painting. The clown brought all-organic face paints which can be washed off with plain water and absolutely no harmful chemicals. She also made different shapes in balloons and the kids went crazy over who would get which balloon.
When the food was served, everyone appreciated how flavourful everything was.
Cake received rave reviews too. It was neither too sweet, nor too rich. Just the right amount of everything blended. I simply cannot believe how beautiful the cake looked and how artistically the cake-lady had captured Megha's two favourite toys.
I know where I am going to get the second birthday cake! Every one had 2 pieces of cake! One the chocolate layer and the other lemon curd flavour. Still, there was lots of it left over.
Just before everyone were started leaving, I handed over loot bags/ return gifts and balloons which we hung as decorations. And when kids saw the candy station emerge, their eyes were filled with wild temptation!  That moment was worth the hours I put into carefully packing the candy.
All her gifts and thank-you-for-coming-call's have to wait until the next day. Neither of us had any energy left to deal with gifts or formalities.
All our planning and handwork paid off. I couldn't have been happier.