It's the summer holidays in US and Europe, and I am confident about parents being haunted by this very pressing question, 'Should I let my little one watch television?' Or, 'Which are the best programs for her/his age?' I love watching cartoons and I think watching educative and entertaining cartoons helps kids learn and have fun at the same time. So when my child is sitting in front of the television I want to be able to ensure that it will be time well spent for her too.
My personal favourite cartoons are those on BBC's popular and official children's channel –CBeebies, Disney channel, and Nickelodeon Junior. Though there are a number of other good cartoon serials, here is a list of the 5 best English cartoons that combines entertainment with education and encourage the concept of learning through play:
Barney & His Friends
This cute and wise purple dinosaur conveys educational messages through song and dance routines. He and his friends have a very positive and optimistic outlook towards life and love to learn and help each other. Simple everyday tasks like brushing of teeth , drawing or painting a picture, and reading a clock are taught in this show through the musical medium.
The Fimbles/Roly Mo Show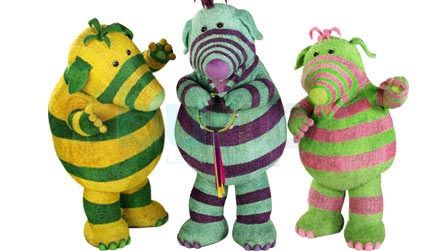 My one-year old used to crawl to the front of the television on hearing its 'Inside a book' song. Roly Mo is a mole living underground in a huge library and is a story teller in this series. Each story is about a problem and how his friends, the Fimbles (Fimbo, Florie and Baby Pom) and few others find a solution. At the end of the problem solving there is a catchy song/rhyme. This program is designed for pre-school kids and the colorful, peppy and magical setting of this cartoon enthralls the little children.
Number Jacks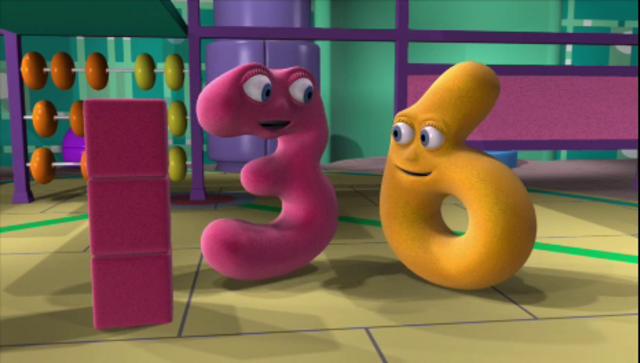 The number jacks are animated numbers from 0 to 9 who live in a sofa. The core concept of this programme revolves around mathematics, where in a problem is caused due to the disappearance of one number jack, and the solution too is provided by the other number jacks along with their agents (a live-action child). The easy going nature of this show helps to stimulate the child's interest in mathematics.
Wonder Pets
Most little kids love having pets. So imagine how the little ones curiosity gets aroused when pets set out together to find answers to the problems they are faced. Teamwork is the key idea propagated in this serial by a hamster, a turtle and a baby duck. They are presented in the series as heroes, who rescue baby animals from danger whilst working as a team.  The theme song emphasizes the need to and the benefits of working together with others to save the day.