Coming up with a lineup of delicious homemade Kitty Party snacks is one of the main dilemmas that the host usually faces in addition to organizing the games for the Kitty Party.
Of course, one can always resort to ordering snacks from outside but that is not as much fun as rustling up your own Kitty Party recipes, and thereby also showing your culinary skills and earning appreciation from the other ladies present at the party.
You can also go ahead and match your food with the theme of the Kitty Party that you plan. To help you in your endeavor, Indusladies brings you a comprehensive list of 10 delicious Kitty Party snacks ideas and recipes which you can effortlessly rustle up at your next get together.
1. Apple n Tomato Cocktail
Get your Kitty Party started with this delicious fruit cocktail made with just a few ingredients.
Apple n Tomato Cocktail Recipe
2. Pani Puri
Try out the famous Indian street food recipe – Pani Puri / Gol Goppas; It will be one of the most innovative Kitty Party recipes to try out by customizing the filling to your choice.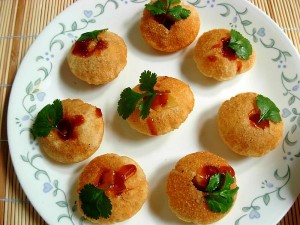 3. Kaju Kothimbir Vadi
Kaju Kothimbir Vadi, a popular Maharashtrian cuisine makes for an ideal snack during Kitty Parties.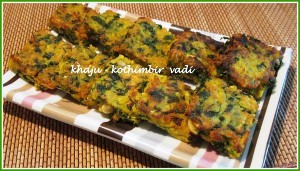 4. Spring Rolls
These Homemade Spring rolls are the perfect finger food snack that will earn you a lot of appreciation from your friends.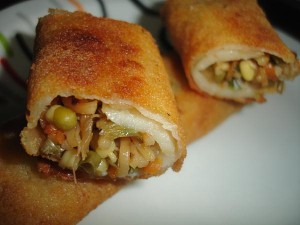 5. Alu Tikki with Moong Dhal
This yummy street food gets even better with the moong dhal filling. Prepare ahead to serve these delicious Alu Tikki to your Kitty Party gathering.
Alu Tikki with Moong Dhal Recipe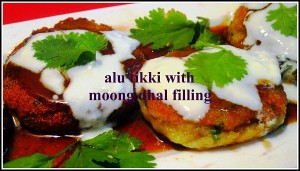 6. Oats Cutlet
Want to try something different. How about these easy to make and equally delicious Oats Heart cutlets.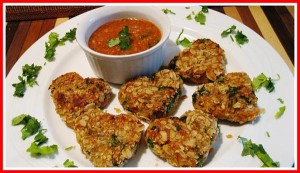 7. Samosa
Crispy and delectable samosas are a great Kitty Party snack that will team well with tea. Try this simple fool proof samosa recipe with the accompanying chutnies for a tasty snack.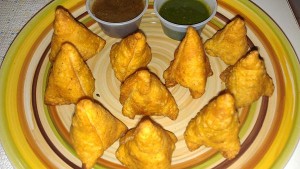 8. Thin Crust Chicken Pizza
Pizza makes a great party food. But instead of ordering it from outside. Go ahead and make this stove top thin crust chicken pizza for your next Kitty Party.
Thin Crust Chicken Pizza Recipe
9. Dry Fruit Ladoo
This dry fruit  delight can be made quickly in your own kitchen. Revel in all the compliments you will get when you serve this healthy dessert.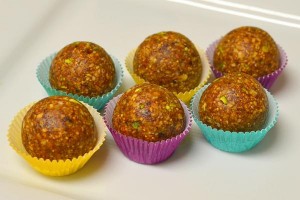 10. Strawberry Cheese Cake
Surprise your guests by making this strawberry cheese cake.
We hope your next kitty party is a success with our list of kitty party snacks ideas. For more inputs on making your Kitty Party successful, check out the easy tips for hosting a Kitty Party.