Every woman loves to look her best on her special day. Get ready to look pretty and gorgeous with our compilation of 16 best bridal mehandi designs.
Design #1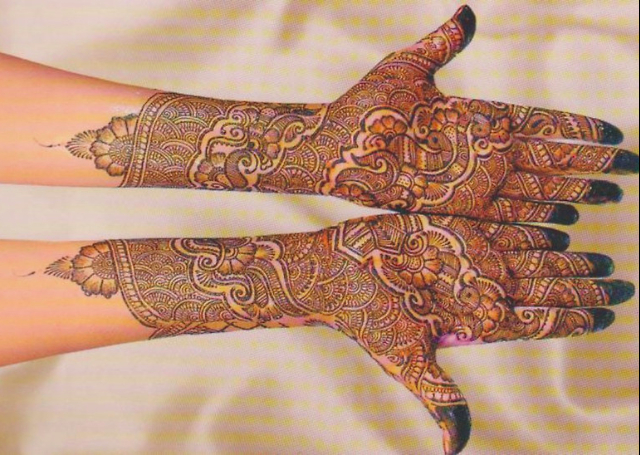 The peacock pattern is quite popular among Indians. This design filled with floral motifs and closed fingertips gives a grand look to the hands.
Design #2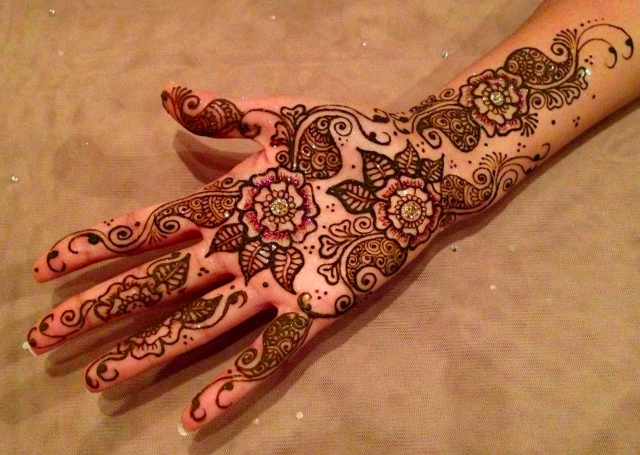 If you are looking for trendy and simple design, then this design is for you. Large flowers covering the palm with glitter stones gives a beautiful look to the hands.
Design #3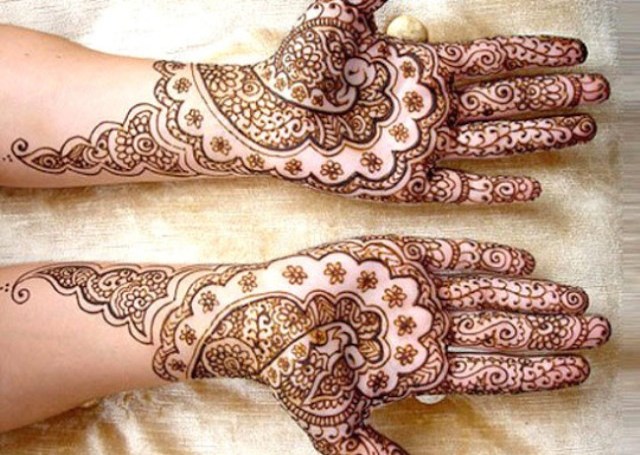 Peacocks make great design elements and have been part of the Indian art since ancient times. This design with lot of intricate details and designs has a mirror peacock art with creepers on the fingers.
Design #4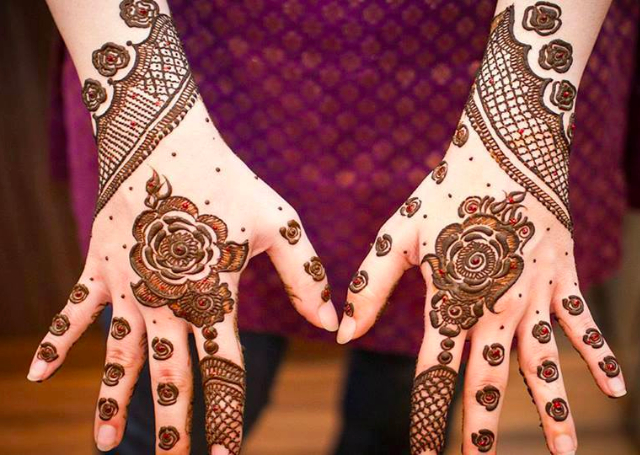 How about a hand jewelry type of design studded with roses? This design looks lovely with tiny rose buds on the fingers. Studded with stones, the large roses connect to the jewelry design of the index finger. Perfect choice for those brides who are looking for elegant designs.
Design #5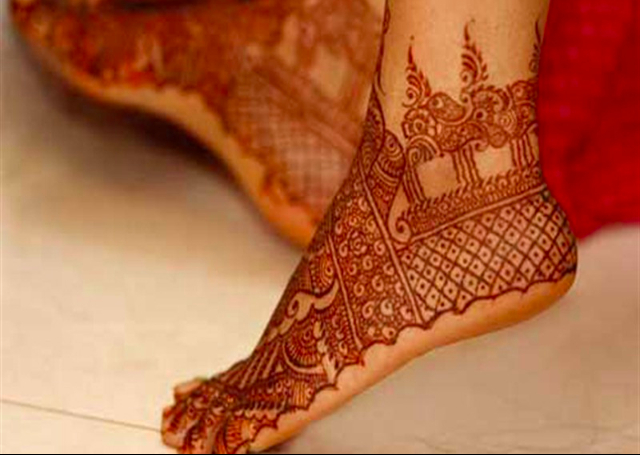 Make your feet look beautiful with this filling design that has a traditional touch. It covers up the entire feet, which is a must-try for any bride.
Design #6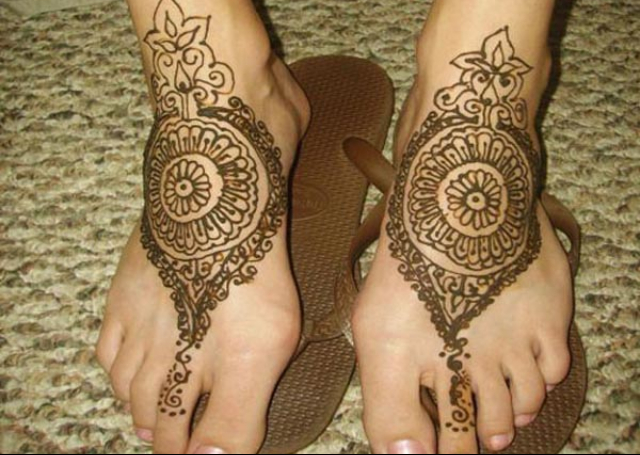 This cool design has the looks of Kolhapuri footwear. The central round design surrounded by motif tapering at the second toe will make the feet look beautiful.
Design #7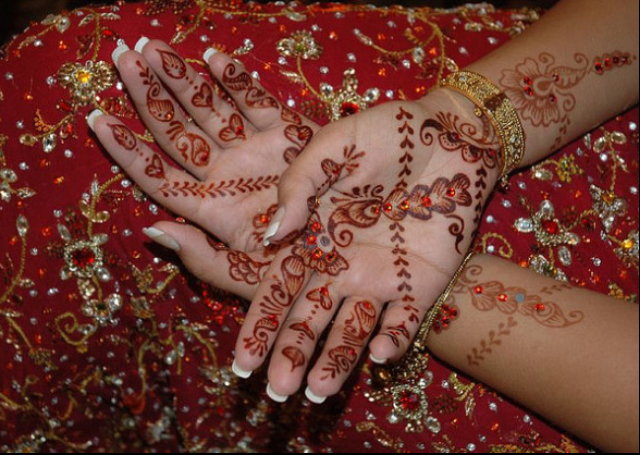 This traditional mehandi design has mango motif crossing over a creeper. This design looks simple yet strikingly beautiful.
Design #8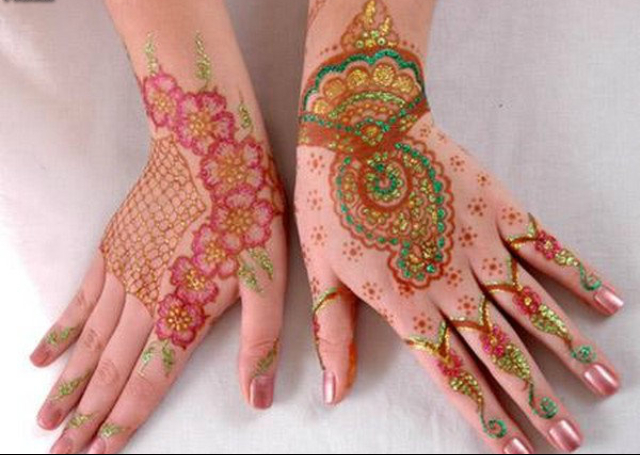 Add glitter and color to the mehandi design to make your hand look extra special. Colorful glitter highlights makes the design look outstanding.
Design #9
People looking for vibrant color on hands can use this large motif design. With bold patterns it covers the hand completely.
Design #10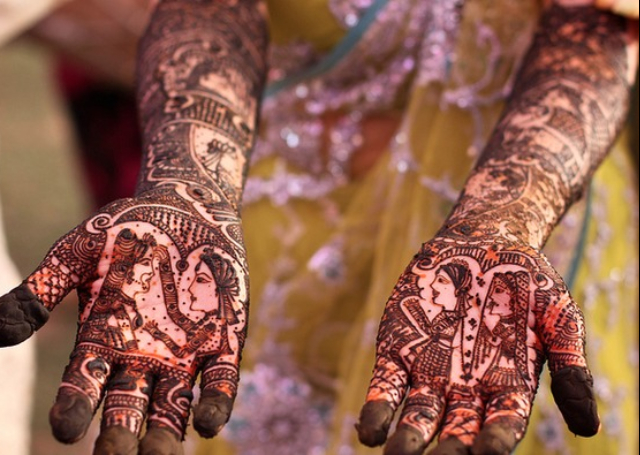 Add fun element to the mehandi design with a Raja-Rani or Dulha-Dulhan motif. This design with intricate patters covers the arm and has beautiful drawings of bride and groom.
Design #11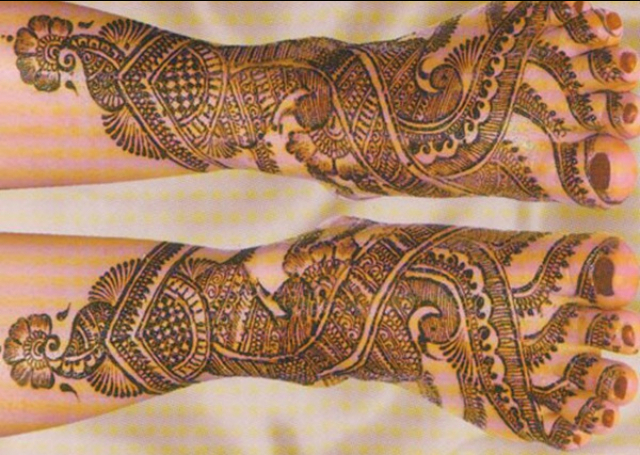 This design is a perfect choice for brides who want elaborate decoration for the feet. Thick and broad bird motif extends till the calf.
Design #12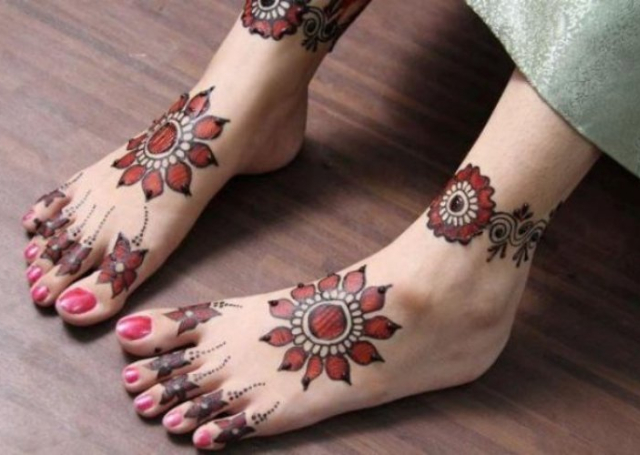 Feel like a fairy with flower anklet and a large flower in the center. Though this design does not crowd the feet, it is neatly spaced giving it an elegant look.
Design #13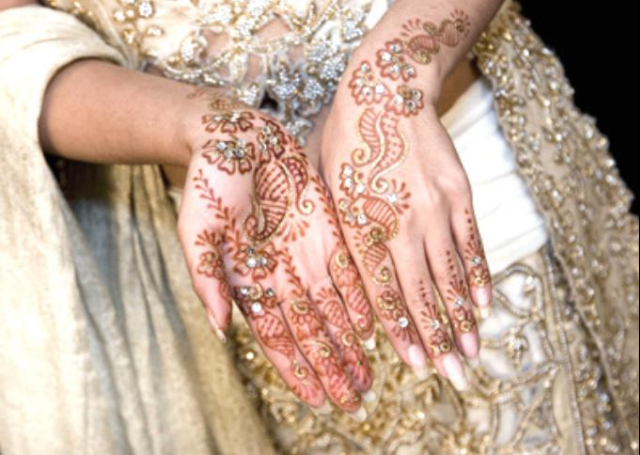 Bedecked with glitter and stones, this mango design looks trendy and is apt for every bride.
Design #14
This is a typical Rajasthani full arm design with intricate details. A hanging peacock motif dominates this striking design.
Design #15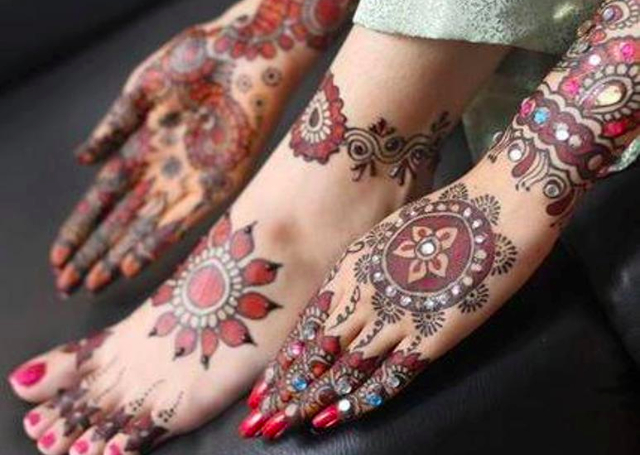 This is another example of how colors, glitter and stones can make a design look extra-ordinary.
Design #16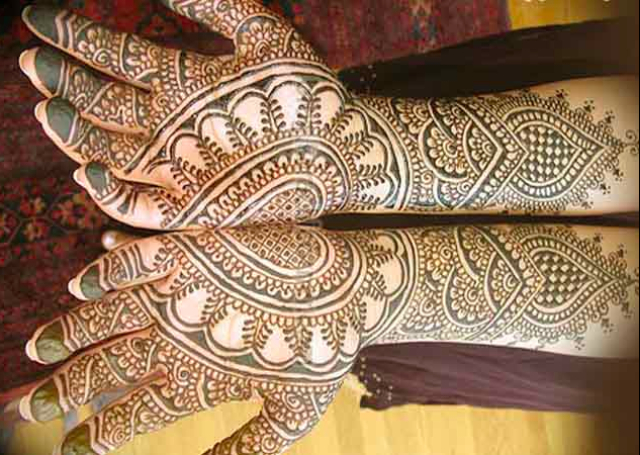 This is a beautiful heart mirror design with a large array of intricate details and motifs.