Austin is a great city for Indians to live. This guide is intended to help Indians new to this city or is considering moving to this city.
If you would like to get help on something very specific, please ask is in our community. One of the friendly and helpful members from Austin will definitely help.
Most Indians would have first heard of Austin because of University of Texas at Austin where a lot of Indian students come to do their masters.
Large technology companies like Dell and IBM increased the prominence of Austin among Indians. Recently, tremendous job growth combined with affordable cost of living has made Austin one of the fastest growing cities in America.
Population
It is estimated that there are ~20,000 Indians in Austin. According to the 2013 Census, Greater Austin has a population of 1.9Million. 100K of that is Asian. Indians are 20% of the Asian population. Indians are also one of the fastest growing segment of the population.
Climate
For Indians, Austin is a great place to live. The chart and table shows average temperates and rainfall throughout the year. The summer gets a bit hot with some days in August hitting 100-105 degrees. Hey, Texas has to live to its expectation too!.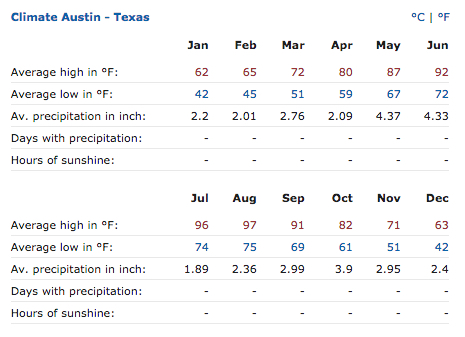 Winter gets a bit cold and you may need to wear jackets and ear muffs on some days. During winter months, it gets icy a few days when you need to be extremely careful when driving. However, snowing is very rare and happens once every 4 to 5 years or so.
Allergies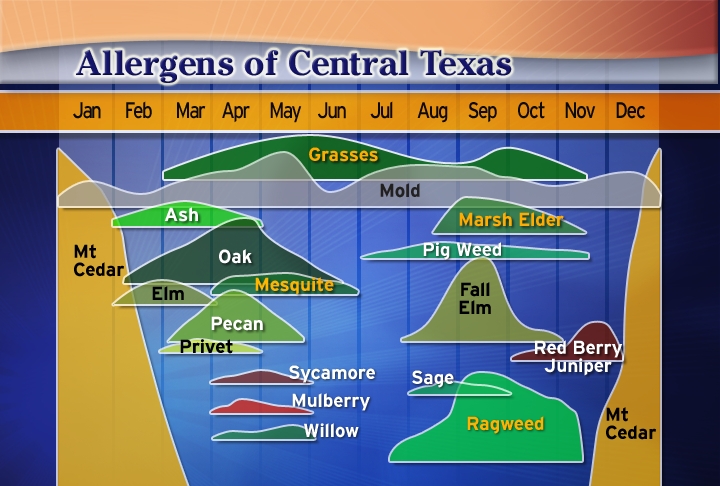 Austin is notorious for its allergies. The graph shows the allergies that happen throughout the year with mountain cedar being the most common.
If you are allergic to any, you just need to find the medication that works for it and make it a practice to take it preventively during those periods. It's manageable.
Taxes
There is no state income tax in Texas. However, that is not the entire story. In a competitive job market, the salary of similar jobs might get adjusted downwards in Austin (compared to say California) to accommodate for the fact that there is no start income tax.
Sales tax is 8.25%.
Neighborhoods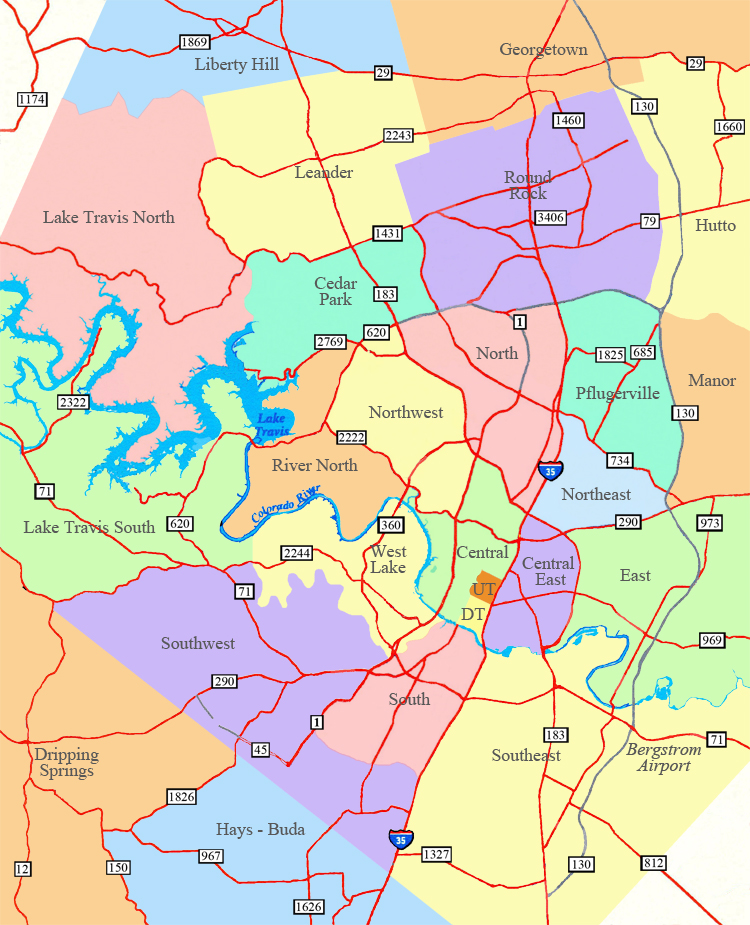 The above map should orient you towards the various neighborhoods of Austin as you explore where to live.
If you are considering moving to Austin and wondering which neighborhood is best for Indians to live in, please see our top 10 neighborhoods for Indians in Austin. If you need to know more specific information about a neighborhood, ask in our community.
If your initial plan is to rent a place, you are more likely looking for apartment complexes in Austin. We have put together a list of the best apartment complexes for Indians. Main considerations were the amount of Indian community in those apartment complexes, the quality of schools assigned to those apartments and how close it is to the various job/office clusters.
Top 10 Apartment complexes for Indians in North Austin
Top 10 Apartment complexes for Indians in South Austin
Top 10 Apartment complexes for Indians in Round Rock
Jobs
Austin has a good mix of large companies, startups and government jobs. It is one of the fastest growing cities in America mainly because of the job growth that is seen here.
There are several large companies having their offices here. This would include Dell, IBM, HP, General Motors, Visa, Apple, Google, National Instruments, 3M, Chales Schwab, Accenture, AT&T, Oracle, Cisco Systems, Paypal etc.
Some of the notable companies that are headquartered here are Dell, Whole foods, HomeAway, Bazaarvoice, Keller Williams Realty, Freescale, National Instruments, American Campus Communities, Cirrus Logic & Farmers Insurance.
It is often said that when a technology company becomes successful in bay area and looking for a second location, Austin is an obvious choice. For example, Dropbox recently opened an office here. There has also been few companies who are moving operations from bay area to Austin because of the high cost of real estate and high salaries there.
Austin was also loosely called silicon hills because of a heavy concentration of semiconductor manufacturing companies like AMD, Intel, Applied Materials, Freescale, Samsung, Flextronics, Cirrus Logic etc.
Because Austin is the state capital of Texas, there are jobs in the several government departments including Texas Department of Public Safety, Austin Energy, ERCOT, City of Austin, State of Texas etc.
Cost of Living
Just as in most part of America, the cost of most every day items is similar. The main component that makes Austin an attractive destination is the relatively low cost of housing. Even though prices are climbing quickly, you should be able to find a 2500 square feet home in a good neighborhood for $275K to $400K, depending on the locality.
While a lot of things make up your cost of living, let us give you an example of one item – eating out. If a family of 4 (2 adults and 2 kids) eat out, it would be ~$50 in a moderate restaurant.
Kids Education
Austin has excellent school districts and that is one thing Indians love about Austin. If you are considering relocating to Austin, this is probably one of your top most concerns. We have put together a list that will hopefully narrow your search and help you research further.
Top 10 elementary schools for Indians in Austin
Top 10 middle schools for Indians in Austin
Top 10 high schools for Indians in Austin
If you are looking at schools, you are also looking at apartment complexes that go along with these schools. For a list of top 10 apartment complexes for Indians in Austin, please see the neighborhood section above.
Safety and Crime Rate
Austin is a very safe city. In the recent years, it is consistently ranked within the top 10 safest cities in America. To get statistics on crime rate in Austin by zip code, please visit this city of Austin crime stats by zip code resource.
Diversity and Racial Tolerance
Austin is a very diverse and multi-cultural city. There is a very good mix of Caucasians, Asians, Hispanics and African Americans. You can read more about the diversity of Austin here.
Utilities
Internet is mostly by Time Warner Cable, AT&T or Grande Communications. Gas is by Texas Gas. If you live in Austin, city of Austin picks up your trash one-day a week depending on where you live. Other municipal districts have similar arrangements.
Cultural Associations
There are plenty of cultural things for Indians. Almost all regional, language group have a cultural association in Austin. Below is our list.
Austin Tamil Sangam
India Fine Arts
Chinmaya Mission
Radha Madhav Dham
Sai Temple
Austin Hindu Temple
Indian Classical Music Circle of Austin
ICC Austin
Saheli Austin
Indian American Coalition of Texas
shiksha
Bengali Association
Telugu Association
Gujrati Samaj of Greater Austin
Hospitals
Austin has top notch hospitals if you ever need one. Below are some of the well known chains of hospitals in Austin. Each of them is excellent. You most probably will pick one based on which one is close by.
St.Davids
Seton
Brackenridge
Dell's Children's Hospital
Austin Regional Clinic
Welcome to Austin!
We hope that the guide was helpful in providing some context and information. A guide could do only so much. We know that you will have much more specific questions. How is this school vs that school? Or how is this neighborhood compared to that etc.
For all those specific questions, our community is the best place to ask! Someone from our friendly and helpful community will definitely help.
Once again, welcome to Austin!