Austin Tamil Sangam
Austin Tamil Sangam (ATS) is a 25 year old organization established in the capital of state of Texas, Austin. ATS was founded to provide service to the Tamil community of greater Austin in a way to preserve and highlight the Tamil language and culture.
The vision of ATS is twofold.
To become an all-inclusive Tamil community in Greater Austin area to preserve and promote Tamil language, culture, and values
To become an extended support family for Austin Tamil families and businesses
The mission of ATS is summarized below:
To provide guidance and support for Tamil families living in and moving to Greater Austin area
To organize cultural activities to preserve the culture and values
To prepare the next generation to speak Tamil and nurture Tamil culture
To facilitate opportunities for members to involve in community activities
To achieve its goals, ATS conducts the following annual events.
Pongal/Sankaranthi
Tamil New Year
Summer Fest
Deepavali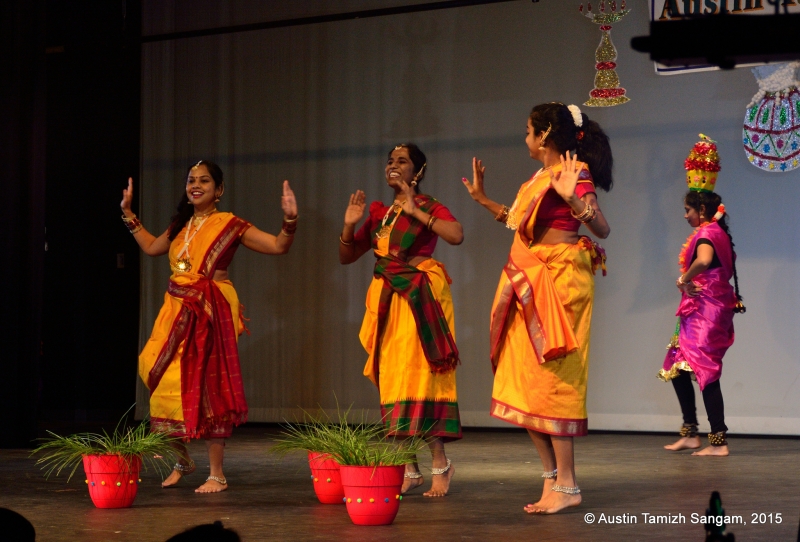 Contact Austin Tamil Sangam at
Email: atscommittee@gmail.com
Web: http://www.austintamilsangam.com/
Austin Tamil School
To educate kids on Tamil, ATS has an affiliated Tamil school that teaches Tamil to over 100 kids with the help of over 40 volunteers.
The mission of Austin Tamil School is to provide an opportunity to the kids of Tamil community in Greater Austin area to sufficiently learn Tamil language to be able to understand, speak, read, and write Tamil.
The goal is not to make the kids experts in Tamil language, but rather teach them enough to enable them
To enjoy a conversation with grandparents and parents,
To have a fun family time watching a Tamil movie with the whole family,
To be able to manage getting around when they are in Tamil Nadu.
The Tamil speaking community in Austin, TX is growing at a rapid pace and ATS wants these children to have the opportunity to learn the language that their parents and family spoke at home and love eternally.
Being a multilingual has several advantages that extend beyond linguistic knowledge. It has substantial cognitive, social, personal, academic, economic, and professional benefits that have been well documented.
ATS believes that this effort will go a long way in stimulating children's brains and achieving the benefits listed above.
Contact Austin Tamil School at
Email: austintamilschool@gmail.com.
Web: http://www.austintamilschool.com/